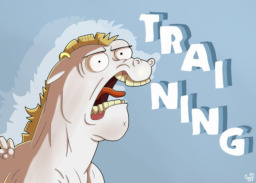 Source
As she made her way to Ponyville, Trixie discovers that she is somewhat thinner and weaker in stature that she would like. She also becomes a bit unsure of having another show in Ponyville, given previous events.
She goes and finds the one pony in town who specializes in muscle building.
And who more fitting to the job than Bulk Biceps himself?
- Cover art by Oggynka
- Set in Season 6 following her friendship with Starlight Glimmer
- Written for the 2020 May Pairing Contest
Chapters (1)