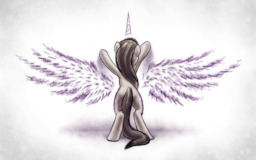 Source
The Element of Magic, Octavia Melody, needs help to defeat a monster that threatens all of Equestria. When only one of her friends can be there, she turns outside to bring others to her aid.
Fate (and the guidance of the Princesses) brings her the assistance of virtuoso cellist Twilight Sparkle and her wubtastic marefriend, DJ Rar-👁-T.
Of course, Princess tasks are rarely without their own unspoken machinations...
---
An Alt-U of one of the most unlikely Elements with a dash of gratuitous RariTwi.
Brought to you by: Secrets: A Swapped Roles Contest. Where it won!
Also now with a three part Fic Case Study by Casketbase77.
Chapters (3)