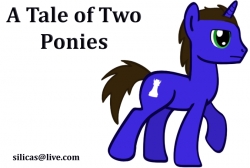 Luna is pregnant with a colt. A colt sired when she was still Nightmare Moon.
One thousand years later, the foal is born into a life of secrecy.
But the father, the troubled stallion who stood by the princess' side even as she turned into the dark queen, did not perish in the intervening millennium since Nightmare Moon's defeat. Alone, but not entirely forgotten, the sire of an age past begins a new life in Ponyville, unaware of the existence of his foal.
But starting a new live is never easy, especially when your past invades the present.
Chapters (19)