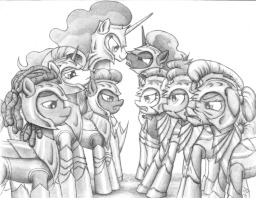 Source
Celestia and Luna are unable to recapture the sisterly bond they shared before Luna was banished. They decide to engage in a competition they haven't held in over 1000 years with the hope that the shared experience will bring them closer together.
They gather their teams, who share an uncommon bond with the princesses, and prepare for a battle that will find its place in the annals of Equestrian history and lore.
Rated Teen for: mild language, rude humor, and pony-on-pony violence.
Cover art by me.
Chapters (11)