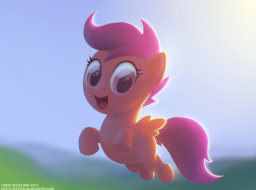 Source
Scootaloo's kite is stuck at the top of a very tall tree! Can she get it?
Fan reading: https://www.youtube.com/watch?v=oJSFn05f1bc. It's really good, you should check it out.
Based off of the original children's story, "The Little Engine That Could". I don't own My Little pony nor the children's story, this is a shameless parody.
Chapters (1)