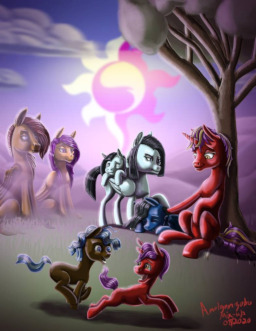 Source
This story is a sequel to Pandemic: Monsters We Make
---
Sunset Blessing was a mare with a dark history. She had risen to great power and prominence, and it had all come falling down. She wanted nothing else but to withdraw from the world, sure that she had only done it harm.
It was a shock to get a call saying she had been appointed guardian of five foals she had never met before. In doing so, she might help them build a new life, and they might bring life back to her.
This story takes place on a near-future Earth, where over five-hundred million people have been transformed into ponies by a magical pandemic.
Tags: Death and Sad because of deaths that happened before the story, leaving the foals orphans and the main character a widow, not because of any deaths in the story. There is some infrequent cussing.
Part of the Pandemic Universe. Note, this AU existed under this title before the actual current pandemic happened.
Cover art by: Mix-up
Chapters (27)