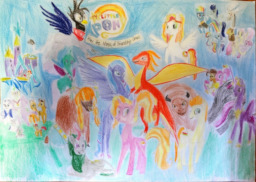 After 'The Last Problem' a new story has begun:
Luster Dawn, a talented unicorn from Canterlot is sent to Ponyville by her mentor, Princess Twilight Sparkle, the Ruler of Equestria. Tasked to learn about the Magic of Friendship in the School of Friendship, Luster starts learning friendship, but in a different way from her mentor did.
But not long after having her own team of friends, a challenge is thrown in front of Luster and her team. They eventually got through it, became known as heroes, and finally, graduated from the school and were free to learn friendship on their own.
Now in an environment that resembles the one Twilight was in long ago, Luster and her friends go on many adventures to discover the Magic of Friendship and report it to Princess Twilight.
---
This is my tenth story, and the first to be a story series. All the good values and morals I would like to show everyone will be shown in this story, so the rest of my stories (which are linked to it) will not have to. This is also the first story to have some of my artwork (which are not digital) posted on DeviantArt, meant to show some of the scenes described in its chapters/episodes.
Chapters (8)