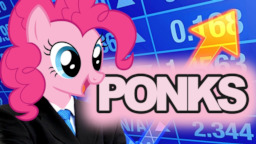 Source
They call her the greatest stockbroker to ever hit Wall Street. Some call her the next Warren Buffett. Working from a nondescript, shoebox-sized office, her clients have earned millions through her shrewd investments.
She's...the "Pink Pony of Wall Street."
Intended for Admiral Biscuit's Not-A-Contest for ponies working on Earth. This was an impulse write--proofreading my may be spotty.
Cover image credit (Thanks to Admiral Biscuit and Trick Question for helping me find this very appropos picture!)
Featured 5/7-5/8/2020


Featured at #1 (with Mature turned off), 5/7/2020


Chinese translation by Miracle Seal!
Audio reading by StraightToThePointStudio!
Chapters (1)