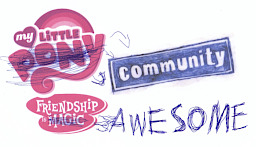 Over 1,000 years ago, Equestria was under the threat of Singularity, a being that wanted to bring about nothingness. It was placed under a complex seal with the combination of the Elements of Harmony and the Elements of Life. However the seal is breaking and the Elements of Life can only be wielded by beings from another universe.
At the same time Troy and Abed are building a working replica of the X7 Dimensioniser and brings their friends along to the maiden voyage... Unfortunately they get stranded in Equestria and turned into ponies.
Now the Mane 6 and the Greendale 7 must team up to reseal Singularity and find the Elements of Life, which are scattered across Equestria...
Will they be able save Equestria or is doomed? Considering who's trying to save it, more than likely DOOMED!
Betaed by refferee
Chapters (6)