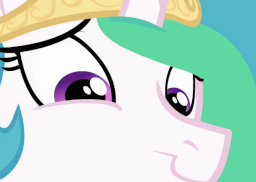 Source
Turns out alicorns are ridiculously fertile. As in 'every time an alicorn has sex, there's a 95% chance they're going to wind up carrying a foal. Minimum.' And this is a problem, because everything else is normal: time spent gravid, mood swings, hormone shifts... it's just not a good idea for a Princess to rule a nation from a constant state of Dam Brain. Plus then you get to the fact that given a typical level of sex drive, there would be an endless parade of heirs galloping around the palace. The line of succession would have a six-mile wait and the front never moves. And then there's just raising all those foals...
In terms of rulership, having somepony in charge who has to live with either the stress of constant celibacy or pregnancy just doesn't make sense. And Celestia has a very healthy sex drive. She just doesn't want to destroy a nation through dealing with the consequences.
So she secretly has a little spell going. Constantly. It's been running for centuries with no signs of slowing down. It does only one thing, and it does that perfectly.
Every time Celestia has sex, somepony else gets pregnant.
---
Premise from Estee's blog post.
Rated C for Crackfic
Chapters (3)