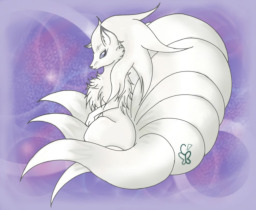 Source
Long ago, a terrible monster known as Ninetails unleashed a reign of destruction upon a distant land before being defeated by holy priests. While helping the land recover and purifying monsters, a fox they had in their care spawned a second tail. Despite knowing the risks, the priests believed she could be a force for good and began to train her in the ways of healing and purification. 
However, not long after gaining her third tail, word of her existence began to spread, causing her caretakers to fear for her life. They decided to send her to a distant land, a land of peace, harmony, and friendship. There, Princess Celestia found her and, interested in her ability to purify monsters, took the three-tailed fox in with the hopes she could save her fallen sister.
"Will she find acceptance and happiness among ponies? Will she save Luna? One thing is certain, her race's heritage and instincts won't make it easy."
Special thanks to Rated+Ponystar for CO writing and editing assistance.
And Special thanks to Sweetolebob18 for very quick proofreading assistance.
And also, thanks to Kitsune Tales for cover art for the story.
This story starts 50 years before Nightmare Moon Return. Humans make appearance only in prologue and they do not play any significant role later in the story. This is not pokemon in Equestria, main character is a Kitsune. Warning, bleeding, religious themes and fluff is to be expected.
Chapters (14)