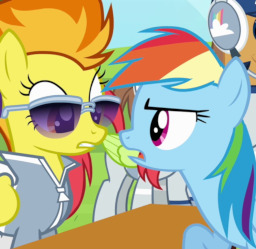 Source
(Takes place sometime after "Rainbow Falls".)
The Wonderbolts have qualified for the Equestria Games and it seems like all is well. But that all changes when a newspaper begins to publish an account of what happened at Rainbow Falls while the qualifier was being held. Suddenly, the reputation of the Wonderbolts begins to take a nosedive.
Spitfire, now racked with guilt for the decision to cut Soarin from the team, decides that there's only one way to salvage the Wonderbolts' reputation and make things right. She announces her desire to resign and hoof the reigns to somepony, which shocks her entire team.
Rainbow Dash is equally shocked, and becomes determined to talk some sense into Spitfire. But is Spitfire in a mood to be reasoned with? Or perhaps it'll take something extreme to make her reconsider?
Chapters (1)