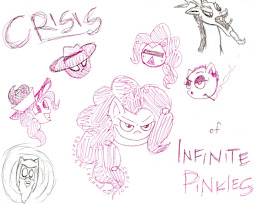 While helping Twilight Sparkle search the Starswirl the Bearded Wing of Canterlot Castle for the time-stopping spell, Pinkie Pie gets sucked into a vortex where she runs into four doppelgangers of herself from other points in time and space. A Pariah lost between the barriers of reality requests the five pastel mares' assistance in stopping the Anti-Marenitor's wave of annihilation. The entire fate of the multiverse hangs in the balance. Pinkie Pie, however, is too busy searching for a birthday gift for Twilight.
And then Discord happens.
I blame this fanfic entirely on Ponky, the talented stalker who gave me the prompt in the first place.
Ponkified covert art also by Ponky.
Chapters (1)