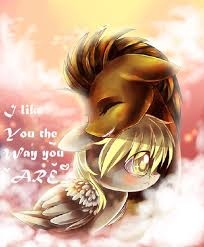 Many ponies have treated Derpy as idiotic and never thought that any pony would ever find her interesting. She always felt that the world was a dark and cloudy day. But soon, a new stallion came to her school, and her world seemed a bit brighter. However, happiness can have problems. So Derpy has to figure out if she does feel like this stallion can help her, or if her world is just one drama after another.
The cover of this story is from https://www.quotev.com/TheElementOfInnocence
I don't know if they were the ones who made it, but every time I looked it always went to this link, if I am wrong please correct me, I don't want any angry comments saying "you got the wrong person idiot! It's so-and-so's artwork!"
Chapters (17)