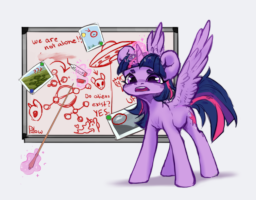 Source
In a dimension tangential to Equestria, where everything is slightly similar but not really the same, the evil Hypnagogic Jerk Moon has enslaved the world. Bizarro Twilight Sparkle is the pony chosen to be the bearer of the element of UFOs, but that doesn't help. What does being the element of UFOs even mean? You can't do anything with that!
Unwilling to deal with her own problems, Bizarro Twilight travels to another dimension in search of an OP alicorn version of herself who she can beg to defeat Hypnagogic Jerk Moon for her!
And hopefully she doesn't have to learn a lesson or anything.
Chapters (1)