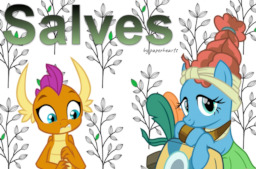 The summer holidays can't come soon enough for Smolder.
Finding it increasingly difficult to harmonise the lessons of the School of Friendship with her dragon nature, she wants nothing more than to kick back with her friends and to forget the tug-of-war battles raging in her heart and head.
What she gets instead is Headmare Twilight bringing forward her first assignment from the next term as homework. Paired off with one of the "Pillars of Old Equestria", Smolder finds herself having to spend a month with Meadowbrook, and writing up her resulting experiences and reflections.
But when they travel to a village trapped by a terrible curse, those experiences become profound and life-changing, for Smolder and Meadowbrook both.
---
Cancelled here; may be continued over on AO3
Chapters (1)