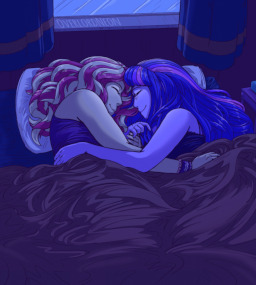 Source
Sunset's off on a world tour, she's made it big. She's at the top of her game with several charting albums and rising higher by the day. But she never forgets the one who kept supporting her at her lowest moments. But a lonely motel room does not pleasure make.
Twilight's... well, Twilight. She prefers armchair adventures and romance novels -even if she has a stunningly great girlfriend- and things like that. Qualified introvert. Still, that doesn't stop her from getting lonely on those long nights, and an empty bed and a girlfriend on live TV... well, yeah.
Thankfully Facetime exists, eh?
(Written for Secret Moon's Self-Isolation Writing Contest)
(Featured on 4/16/20)
Chapters (1)