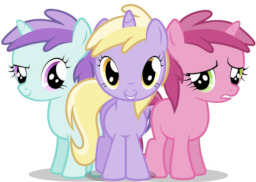 Moving into a new house is always tough. Leaving the environment you know, saying goodbye to the places you are familiar with, getting used to an entirely new living space that does feel nowhere near like home at the beginning..... Moving out from an abusive household, however, is a blessing.
Ruby Pinch had to leave her old home, for the sake of her safety and her sanity. But now that she sees the house she is supposed to live in from now on, doubts come over her. The history of the house and its look are opportunities for second-guessing and, suddenly, Ruby is not sure about living there anymore.
Her friend Dinky Hooves loves the house, though, and the history of it gives her all the more reason to move in together with Ruby Pinch. Her other friend, Liza Doolots, just wants that Ruby makes the best decision for herself.
Ruby Pinch can always rely on her friends. And together, nothing will stop them from having the best fillies' flat possible..... not even a scary, old witch.
This story is a gift for DinkyUniverse and was written to celebrate a very special occasion.

Chapters (1)