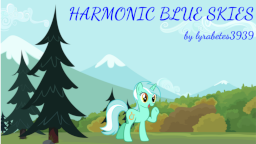 Sky Scraper is a handsome blue pegasus pony with a sharp mind and a strong heart. He's also the architect behind some of Manehattan's newest buildings. Despite his impressive credentials, he's also an introvert who enjoys the solitude of being near the water. He lived and worked in the big cities for a while, but eventually he wanted a change of pace. He now lives at an elevated lake house just north of Ponyville.
After moving, Sky expected to spend most of his time alone as usual. But when he gains a new best friend in a surprising way, he decides to reach out and visit Ponyville proper for the first time. There, he meets the most beautiful mare he has ever seen in his life. Her name is Lyra Heartstrings.
If luck is on his side, he won't be alone for much longer.
---
Sky Scraper (c) me
Emerald Leaf (c) Mellow Mane
Chapters (1)