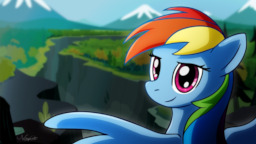 Source
Dyson, a Northern Mississippi slave, wakes up alone in the Ghastly Gorge, a place where eeriness lurks around every corner. Luckily for him, a colorful pegasus runs into him. Will Dyson and his new companion escape from the hell of the Gorge, or will they succumb to its lifeless prison?
Special thanks to Barracuda Cyborg for helping me with editing this story!
Warning: If you can't handle the n-word, then you shouldn't be reading this story. It does pop up sparingly.
---
Reposted due to the accidental deletion of the account this was posted on. For more details, see this blog.
Chapters (13)