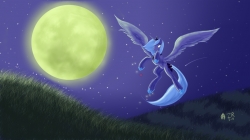 After a 1000-year condemnation on the moon, Luna has rehabilitated her position as Princess of the night. Princess Celestia is glad to see the connection between Luna and the night harmonized as well as the connection they share themselves. But there is another bond that Luna must take initiative on: socialization
A slumber party is a decision Luna makes on her endeavor, so are the six equines as special guests. With aid from Celestia, Luna just might make her first step.
This isn't necessarily my first attempted fanfic, but it's my first completed one. I hope you readers will enjoy; criticism is appreciated.
Credit to Foolonthehills for proofreading and advice.
Chapters (4)