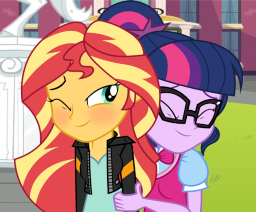 Source
About a week after the Friendship Games, the human Twilight Sparkle is settling in at CHS and Sunset Shimmer is trying her best to help ease the process. A chance bit of online silliness sparks a conversation that goes places neither expects.
A stream-of-consciousness experiment with my favorite gangly ape nerds.
Rated Teen for suggestive dialogue and premarital hand-holding.
Chapters (1)