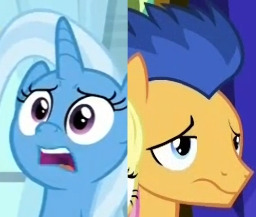 You know what's a dumb idea? Taking the crew of a stranded cruise liner and marching them through a magical horse dimension to get home.
You know what's a smart idea? Grouping everybody in pairs so that they can buddy up and look after each other during the trans-dimensional trek.
When Flash Sentry is randomly partnered with an annoying fussy magician possessing an ego the size of the magical storm that sank them, he'd almost rather stay back on the wrecked ship.
Chapters (30)