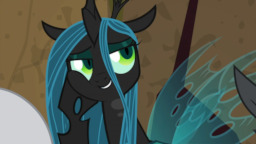 Source
This story is a sequel to Desperate Devotion
---
Married, happy and in love, Twilight and Chrysalis are in a good place in their lives. They're living in the Canterlot Castle, sitting where Celestia and Luna once sat. They have plenty of wonderful friends, and Equestria has been at peace for a long time. If things continue as they are, they could easily live simple, fulfilled lives until they grow old together.
Neither of them were ever very content with being content, though.
After a long time spent discussing it, they finally decide to have a child, and in typical over-the-top fashion decide to have Equestria's first ever half-pony, half-changeling child.
They have no idea what's coming.
---
While this is a sequel to Desperate Devotion, it's set many, many years in the future. Things have changed, some of which I've written the stories of, others which I haven't. You should be able to follow along no matter what you've read beforehand, (you don't even really need to read Desperate Devotion honestly) but the status quo won't be quite what you might expect.
Chapters (37)