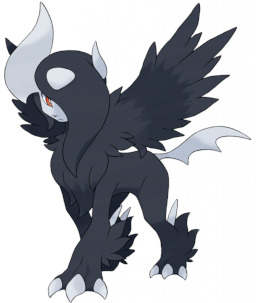 Source
I wanted a normal day of having fun at a con. Obviously that's not gonna happen. So now i'm stuck in Equestria as a custom-typed Absol. This can only go well.
My own take on the whole Displaced whatever the hell. Tempted to open up for crossovers, but not guaranteed.
Edit: tweaking the tags slightly to better envelope what this story will become.
Edit2: WHY IS WRITING SO DIFFICULT
Also, somepony mentioned something about pairings. If you REALLY want to know in advance, let me know and I'll just PM you, not sticking it on the front page cause why spoil?
Chapters (2)