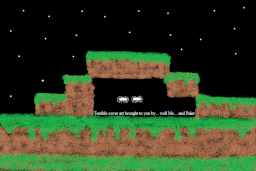 Source
Little is known of what lays beyond the land of Equestria. Tales of wondrous endless lands of odd peculiarities, others of horrific lands that would drive even the strongest of stallions mad. Not much is known of these lands, but one thing is for certain... those who enter never return and by if some miracle they do, they are never the same.
(geez i am terrible at descriptions. Actually, all you really need to know is that this this a twisted take on the mane 6 finding themselves in the world of Minecraft read from the journal of Twilight Sparkle)
This is a little idea i've had on my mind for a while after messing around with the recent Minecraft updates and stuff it's a Minecraft sort of story crossover thing.
First installment of my 'My Little Ponycraft Saga' thing
Yay! Horrible MS Paint cover pic by yours truly.
Be prepared for bad grammar and punctuation, i'm not the best writer. But hey if you wish to edit it there are instructions on how to edit along with my emails on my user page
Chapters (21)