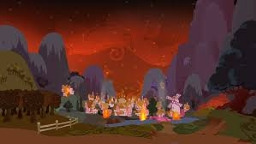 After the final song of My Little Pony friendship is magic, the creatures of Equestria are now living happily and peacefully along with their new ruler Princess Twilight Sparkle. But all of the exuberance has came to a daunting conclusion when the Chinese People's Liberation Army invaded their land for an undisclosed reason. And now, all of the creatures in Equestria are either being enslaved or held as prisoners as science projects by the aliens. And the army is being lead by a lieutenant general named Jin An Rong (金安荣) and he has used Twilight's Castle as a prison for the creatures of Equestria.
But, all hopes were not lost until an eighteen years old teenager named Charlie Lam from an M.I.T campus in Australia endows succour to the creatures of Equestria and help take their land back along with a unicorn mare. He will also get a traumatizing upgrade from Twilight.
The reboot of my old story is finally here! After my cretinous mistake last week, I had some assistance from https://www.fimfiction.net/user/334666/The+Blue+EM2 and he told me everything and endowed assistance to me, and I just want to say that I am grateful for his aid. And the title was also counselled by him, and I hope that you all will enjoy this reboot, if not then I am very sorry.
Also, I do not own My Little Pony. It belongs to Hasbro. And the poster am using for the coverart also belongs to MysteryMelt on DeviantArt.
Here's the link to it
https://www.deviantart.com/mysterymelt/art/Ponyville-Burning-521968297
Chapters (25)