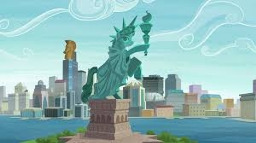 As her father dragged her to Manehattan for a business trip, Diamond Tiara was more than ready to do whatever it took to avoid a very long and boring stay at a hotel room while Filthy Rich finished his deals. As such, when she found out about a tour of the Big Apple and all its sights and wonders, she grabbed the idea with both hooves as a far better way of spending the day, after all, anything was better than being bored out of her mind as she stayed stuck in a room with nothing to do!
Of course, considering that her companions for said tour ended up being a grumpy retired dark lord, his extremely cheerful gargoyle son-in-law, and an utterly clueless saddle arabian tourist, she soon realized that a bit of boredom once in a while may not be that bad when all is said and done.
---
---
My attempt at the Season 10 Bingo Writing Contest, so let's see if I can turn five randomly generated prompts into a story, shall we?
For those who are curious, those prompts were: Grogar; Diamond Tiara; Scorpan; Manehattan; and Saddle Arabia.
Proofreader: The relentless TranquilClaws!
Contest Results: Fourth Place
Chapters (3)