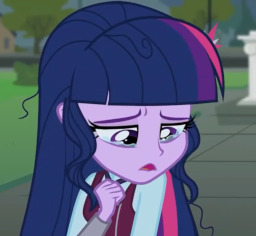 Source
Twilight Sparkle of Equestria is brave, confident, a capable leader, a powerful wizard, and a princess.
Twilight Sparkle of Earth is none of those things.
So why would an absolute goddess like Sunset Shimmer be interested in her? Because they look similar and share the same name? Because the real Twilight is off in Equestria? That must be it. She's just a placeholder. A low grade knockoff of what Sunset really wants. And sooner or later, she'll end up disappointed. They all will.
Chapters (1)