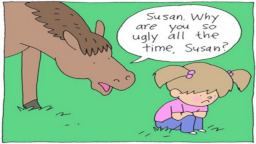 Susan was as happygolucky as a little girl could be, but sadly for her, "was" is the keyword here.
She had friends, she played pretend, she was always nice to everybody, and most importantly, she absolutely loved the My Little Pony franchise. Whenever she went over to a friend's house, they would spend the whole time playing with toy horses, pretending they were pegasi flying through the sky, making stories about how Pinkie Pie and Fluttershy first became friends, and sometimes even wishing that they could live in Equestria. At the very least, she wished that she could just meet them, to get to know them and ask them what being a pony really felt like.
Then, one day, she was given a gift that nobody should ever have to deal with. Soon, Susan would truly realize that sometimes, ignorance is bliss.
Commission for /b/.
Chapters (1)