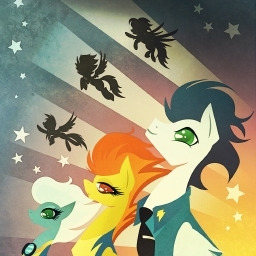 Source
After having lunch with A.K Yearling, Rainbow becomes interested in trying to write a book. About herself and her teammates, what they're like when they're not performing. She creates chapters that share anecdotes of her team, all taking place in her daily life. Because with her team, every day's a new dramatic adventure. After all, no one has ever seen the Wonderbolts from the other side of the flight suit.
This story is a semi-sequel to Ex-Bolt's Rising
*There is a little bit of swearing but it won't be used in every chapter.
Edit 3/7/21: this story is now on hiatus, reason is detailed here
Chapters (8)