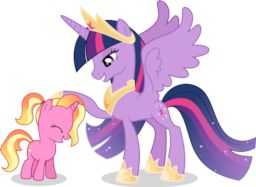 Source
This story is a sequel to A New Change in Tradition
---
Many millennia have passed since Twilight Sparkle ascended the throne as the sole ruler of Equestria. Though her friends are long passed, she still lives by the lessons of those long-ago days.
In the time since then, ponykind has traveled to the stars and now live across countless worlds across most of the known galaxy.
Equestria itself is no more, burned away as ponykind evolved. Now Empress Twilight and Empress Flurry Heart rule a galaxy-spanning kingdom from the Throne World of Harmonia.
This year, as she has every year for years beyond count, Twilight returns to the city once known as Canterlot to remember all that has gone before. And this year, her newest student, Orchid Aura, will join her.
Chapters (4)