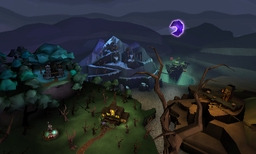 Source
This story is a sequel to Apple Bloom's Mansion
---
Almost one year passed since this famous night where Apple Bloom had to face a whole manor full of ghosts to save her sister and her friends. Now a professional ghost hunter, helped by her mentor professor Smart Spirit, she regularly hunts bad ghosts all over Equestria.
But one day, she learns from Diamond Cup, who went with Smart Spirit to do some research in a mysterious haunted valley: the Evershade Valley, that the ghosts of the valley, usually pacific, have suddenly turned hostile and captured the prof!
It's now up to Apple Bloom to find the origin of this hostility and to save Smart Spirit, and the valley, but she has no idea who she's up against this time.
Chapters (8)