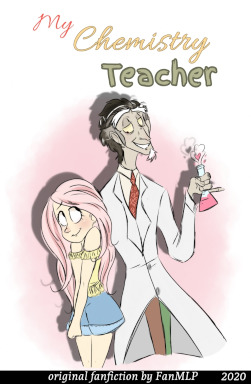 Source
- EXCITING NEWS BELOW!!!!
NEW COVER ART ALSO MADE BY ChaoticBoop.
At Canterlot University, Fluttershy, a young and beautiful twenty-six-year-old girl, dreams of becoming a veterinarian. She and her friends are studying different careers, but they all must pass one important class: Advanced Chemistry.
Dean Celestia wished her oldest friend would have asked her, literally, anything else but teaching Science class at her college. Discord is not the most responsible or serious person she knows, at all. But he is willing to be a good and "funny" teacher as long as he can pay his rent and have a fresh new start.
For being a forty-one-year-old man, Discord's known for being childish, weird, eccentric, and chaotic. But when he meets a certain young student, he is fascinated with her kindness and curiosity for learning, making him considerate her as his "favorite student".
But what started as an innocent and un peculiar friendship, becomes a passionate and forbidden romance, leading to worries with the school rules, students gossiping, and even the authorities. All goes from bad to worse when a new Gym trainer is introduced, with a dark past and dangerous intentions with the students, especially the attractive animal lover girl.
*This is story is inspired by a friend from Discord Server called @ChaoticBoop. Her amazing imagination and drawings inspire me to write this story. The amazing Cover Art and the other drawings on one of the chapters are also made by her. Follow her on Tumblr: https://thechaoticboop.tumblr.com/
NOTE: Some ideas from this story are hers, and other ideas are originally mine. She deserves credit for this story as much as I do.
WARNING: This story is a Teenage rating but there will be drawings and some dark things in a character's past. There are gonna be some really explicit and specific scenes, for +18 years- old only! Written and drawn. BUT NOTHING UNCENSORED! There'll be a content warning at the chapter title. Read under your own responsibility.
Also:
QueenZozer, another friend in the Discord server, with ChaoticBoop, has done Audio Readings of "My Chemistry Teacher" fanfic! I can not tell you how honored and touched I am about this, so here are the links of the chapters made so far, in case you want to download them and listen to them. Their voices are very accurate! Hope you enjoy them!
Chapter 1: http://www.mediafire.com/file/1mw0lj2qs28otpa/Chapter_1_of_My_Chemisty_Teacher_Final.wav/file
Chapter 2: http://www.mediafire.com/file/jr2uqd6cud0q5sn/Chapter_2_of_My_Chemistry_Teacher_Final.wav/file
Chapter 3: http://www.mediafire.com/file/k8y9q9gbu7vvjb8/Chapter_3_of_My_Chemistry_Teacher_Final.wav/file
Chapter 4: http://www.mediafire.com/file/xh39vt87x8you2b/Chapter_4_of_My_Chemistry_Teacher_FINAL.wav/file
Chapter 5: http://www.mediafire.com/file/y70kh724spft319/Chapter_5_of_My_Chemistry_Teacher_FINAL.wav/file
Chapter 6: http://www.mediafire.com/file/hxqoa2m6d5ncsuh/Chapter_6_of_My_Chemistry_Teacher_FINAL.wav/file
I'll post the rest of the chapters on the description once the new ones are released.
Hope you'll like them! And special thanks to Queen Zozer and ChaoticBoop!
Here are the BLOOPERS, in case you want to hear them:
C1 & 2: http://www.mediafire.com/file/ywoxucrmtf7jq9e/Chapters1%25262Bloopers_of_My_Chemistry_TeacherFINAL.wav/file
C3: http://www.mediafire.com/file/bclbf3pk20ah8jz/Chapter_3_Bloopers_of_My_Chemistry_Teacher.wav/file
C4: http://www.mediafire.com/file/q6hgeirxjhc9fus/Chapter_4_of_My_Chemistry_Teacher_Bloopers.wav/file
C5: http://www.mediafire.com/file/7agx7pvwv0lisec/Chapter_5_of_My_Chemistry_Teacher_Bloopers.wav/file
C6: http://www.mediafire.com/file/evc13nqwpvpk7wi/Chapter_6_of_My_Chemistry_Teacher_Bloopers_FINAL.wav/file







Chapters (8)