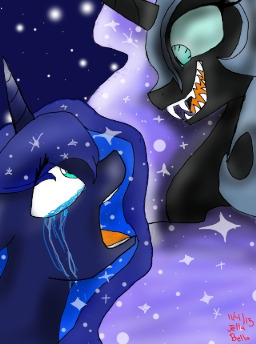 Source
Update: Second chapter will be updated before more chapters are posted. Additionally, I am not writing right now, but there will be more.
---
Luna, princess of the moon,the night, and the stars, has always been sad about the disrespect from her own ponies that were supposed to follow her as equally as they did with her older sister, princess of the sun and the day.
She just never expected to be sent to the moon, to only talk to one pony- herself. More specificlly, Nightmare Moon. In a tough battle of emotions, she learns to calm down a bit more, and hide her tears, for when all were to someday be gathered near, in the future that is yet to come.
---
Loosely based on the fan-made song Lullaby for a Princess. An attempted all on my own (with slight help) story. I am going to change the name once I think of a new one!
---
The picture used for this story is not mine.
Chapters (3)