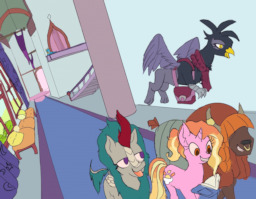 The most dangerous assignment of Captain Gallus' career: protect Luster Dawn, friendless magical prodigy, from Ponyville. Isn't there a nice war to fight instead?
Written for the The Discovery contest.
Edited by the lovely Lofty Withers, Just Lightning and Sock Puppet
If you liked this and would like to donate check here https://ko-fi.com/raynetheskunk .
Chapters (2)