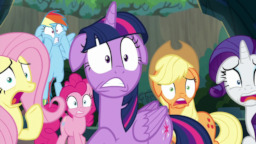 Spotting Twilight Sparkle in an unusually bad case of "twilighting", Pinkie Pie, Applejack, Fluttershy, Rainbow Dash, Rarity, Spike, and Starlight Glimmer try to calm her down. They are quite used to it.
But when Twilight explains why she was twilighting, again, her friends realize it's actually justified this time. They all agree to help Ponyville survive a disaster Twilight believes is imminent.
Will they be successful, and why did Twilight's friends suddenly believe she was on to something...?
Chapters (1)