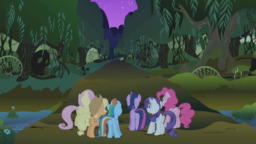 Adventure
Comedy
Random
---
Celestia receives an urgent letter from a city deep within the confines of the Everfree, the city of Glognor, a city long considered lost to pony-kind. Contained inside the letter is a notice, a warning, that if Celestia does not have her package picked up from The Mismatched Sox, a mysterious shop run by a Globin named Stocaí, the package will be destroyed, or worse... Sold.
Celestia has little time, she must send a team to retrieve the package before it's too late!
And who's better to send, than her most faithful student, Twilight Sparkle, and Twilight's most faithful friends?