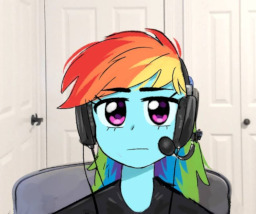 Source
Hi DashieGames! Congratulations on becoming a streamster partner!
Contains: Anthro Dash. Transformation. Mind Alteration. Second Person. World Shift. Unaware. First actual fic.
Unsure if I'll dump some of my other random tf thoughts on here. Also, yes... I know it's complete trash! It's the first time I tried adapting one of my twitter stories to something more.
Credit to Kaikururu for letting me use the art!
https://www.deviantart.com/kaikururu/art/Sad-Dashie-828964304
Chapters (1)