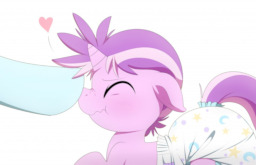 Starling is a little toddler who leads a happy life. His Mommy and Daddy love him, he has lots of toys to play with, and he is so smart for his age! At least, that's what Mommy and Daddy always say.
But one night, he receives a visit from a frightful presence in his dreams, one that lays a devastating penalty upon him for his transgressions the day before! A curse upon his nose! And the following day turns very interesting for the little pony, as a normal day with Mommy becomes abnormal to the extreme!
This story was written (a long time ago) as a present for my friend Kurikia, who also drew the cover art you see and owns the main character. You can find his gallery on FA, as I am not sure if linking it is the best idea.
Glam Rock is owned by ThunderChaser23
Cautionary Tags: Diapers and their Usage and Changing, A mention of spanking, and multiple boops to a nose
Chapters (1)