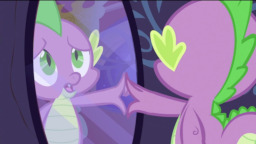 Source
Long story short, I was a brony. I woke up one day to find myself in Spike's body. Dream come true, right? I'm in Equestria, I could interact with my favorite ponies, etc.
Well, as it turns out, I just happened to wake up right at the beginning of Season 1. Which could only mean one thing: I can change the future of Equestria. I could solve problems prematurely, prevent disasters from happening, and keep Twilight from going insane.
So now, my mission isn't to hug my favorite ponies, but to make sure everyone gets a happy life.
Chapters (81)