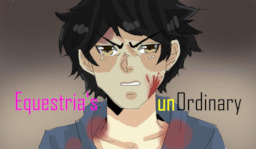 His name is John. He was a late bloomer in middle school, and among a group of people with extraordinary abilities, he was kicked around. But once he gained his own ability, one that granted him a power scale so high that years later his highest point in middle school would've already beaten the senior King of Wellston. And thus he became the King of New Boston. His brutality increased as well as his power. So high that he at one point destroyed his entire class and beated them up, an action that would expel him from middle school and to be stuck in isolation for a year.
After that though, he would become a student of Wellston High School, in which he would becomes friends with Seraphina, the Time Queen. It all just comes to a sad chain of events that eventually leads him to resume his evil deeds, this time for a good intention of protecting his friend by tearing down the hierarchy. But by doing so, he has placed far too many lives in danger.
But what if the government deemed him too dangerous when he was in middle school? What if using their abilities they sent him to another world, a world full of peaceful creatures with magical abilities as well?
Will this world show John the right path to live and to use his abilities for the good, or will he let himself continue down the dark path that he went through before?
A UnOrdinary x MLP Crossover
Chapters (5)