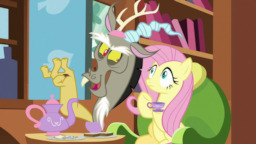 Discord and Fluttershy go on a nature walk. They talk about life, and also death.
Death tag is for discussion about death. Nopony actually dies in this fic.
---
Featured on Equestria Daily 2/23/2020. Thanks to 63.546 for pre-reading!
Included in the Equestria Daily fanfic list for Fluttershy Day 2020.
Chapters (1)