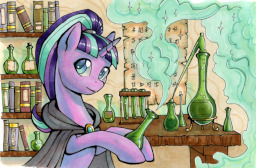 Source
Starlight Glimmer knew that magic wasn't enough to manipulate ponies. To get them to see things as she knew they were and change themselves, she needed to say the right things. She would do more than bring ponies to water because her words would make them drink it too.
Double Diamond just knows he will be listening to Starlight Glimmer, and extra careful to obey. Anything to keep him away from that house.
---
Takes place before Season Five's opening episodes 'The Cutie Map'. Contribute to the TVTropes page!
Chapters (3)