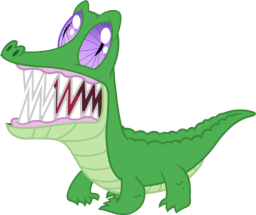 Anon, Ponyville's resident human, is enjoying another beautiful day. Well, he's trying to, anyway. Unfortunately, his efforts are thwarted by the actions of Ponyville's resident alligator, Gummy.
Everywhere he goes, Anon is constantly assaulted by the little green menace with a spirit of fury and persistence.
Why is Gummy attacking him? What are his motives? Why is he so hell-bent on Anon's demise? And will Anon's ankles possibly come out of this intact?
Chapters (1)