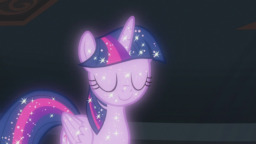 Source
The Young Six are in the midst of a slumber party in the Treehouse of Harmony, and have reached the point in the party where scary stories are to be told. However, none of the students seem to be able to come up with good enough stories. In response to this, the Spirit of the Tree of Harmony appears and offers to show each of the young creatures a story that is not just scary, but also brimming with imagination, and the powers of the mind. Stories of shadow and substance, of things and ideas.
Each of the young creatures will be brought into another dimension vast as space and as timeless as infinity, between the pit of fear and the summit of knowledge. The Spirit will be their tour guide in this mysterious realm known as. . . The Simulacrum Realm.
This collection of stories is based on the television series "The Twilight Zone" by Rod Serling.
Chapters (2)