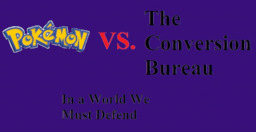 You know the Conversion Bureau universe pretty well.
Evil Celestia? Check.
Goes after Earth? Not so check.
Because Celestia made a grave error.
She accidentally targeted a world where humans coexist with powerful creatures known as Pokémon.
This isn't going to be easy for her, because things here aren't quite what she expected.
Now, the battle for PokéEarth begins...
Chapters (1)