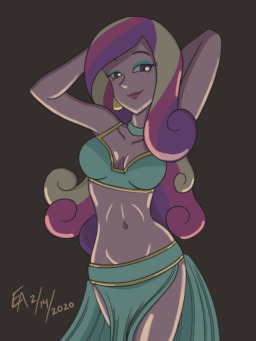 This story is a sequel to In Her Own Skin
---
A cardinal rule of dating a belly dancer is to NEVER ask her for a private performance. Being the gentleman that he is, Shining Armor abides by this, even as he quietly longs to experience Cadance dancing for him and him alone. Needless to say, he is surprised when he arrives at her apartment one evening to find her waiting for him, dressed in her bedlah.
Part of my Equestria Girls belly dance series.
AUTHOR'S NOTE: Nothing explicit here, folks. Like the rest of the stories in this series, this tale falls within the PG/PG-13 realm.
Chapters (1)