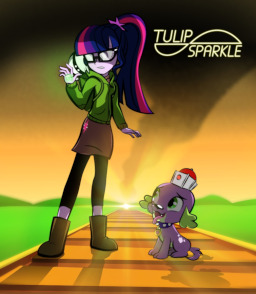 Source
Every night since the friendship games Twilight has been having nightmares about her time as Midnight Sparkle. She dares not tell her friends about them, I mean what would they think if she told them she was scared of the very magic that brought them together?
Regardless these nightmare's have unfortunately made her oversleep and miss the bus to Camp Everfree resulting in her and her faithful dog Spike having to figure out a way to get themselves and wait... since when do trains stop at bus stations?
Twilight and Spike now have to make there way through a number of dangers, challenges, and corgis if they ever want to get off this train.
Picture created by dan232323 check them out on DeviantArt
Chapters (9)