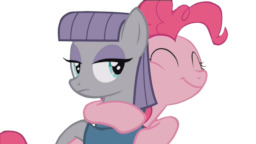 Source
(Story idea partially inspired by Alzrius. This obviously takes place before "The Maud Couple".)
Now that Maud lives in Ponyville adjacent, Pinkie Pie can see her amazing big sister all the time. And Maud couldn't be happier to have a quiet place all to herself.
So when the Sisterhooves Social rolls around again, Pinkie gets the idea to compete in with Maud. Though hesitant at first, Maud comes around to the idea as a chance to make up for lost bonding time with Pinkie.
But the two sisters will be up against some stiff competition, including some of Pinkie's friends and even the twice denied champions of Applejack and Apple Bloom. Will Pinkie and Maud be able to work together well, and do they have a shot at winning first place?
Chapters (1)